We're excited to introduce our new beta version of the Learning Hub. The curated resources will help innovators and funders to identify and promote promising new ideas across the worker power spectrum.
We are building out a new resource this year: our Learning Hub.
On December 16, we launched a beta version of a new resource center dedicated to connecting innovators and funders to best practices and to each other.
In the Learning Hub - which will reside on The Workers Lab website - we'll identify, collect, and share information to build a learning community of innovators and funders. In collaboration with funders and leaders, our intention for the Learning Hub is to:
Deepen our shared understanding of how to build worker power;
Collaborate across communities, geographies, and sectors;
Bridge knowledge and representation gaps;
Increase access to funding, grant making opportunities, tools, and networks.
Listening and Responding to Innovators and Funders
In November, we sent a survey to our list of innovators and funders specifically to inform our planning for the Learning Hub. We asked, "What resources do you want to have in relation to the worker power spectrum?"
Over 400 people replied. Respondents answered from 42 states in the U.S., plus Washington, D.C.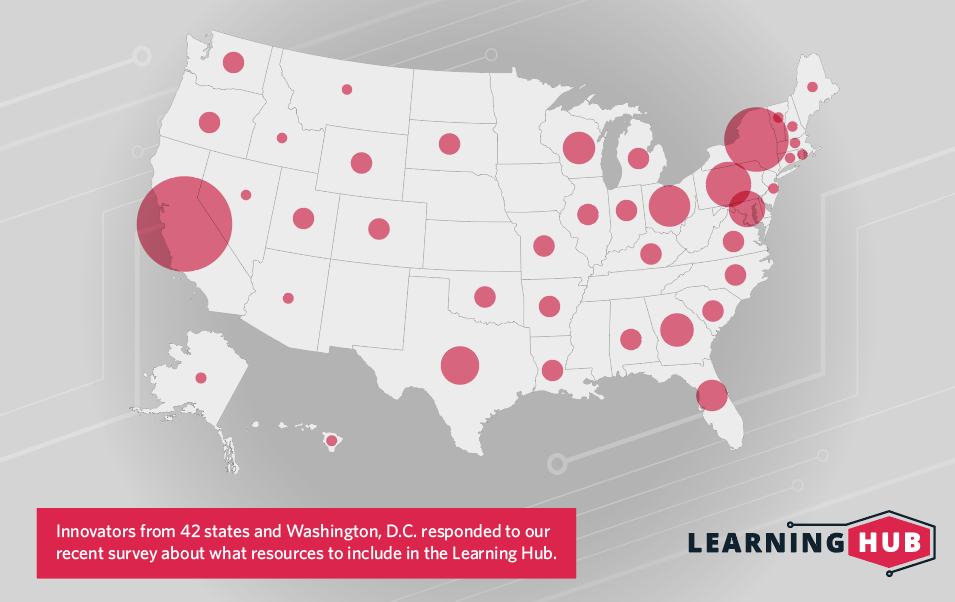 Survey respondents told us they want the Learning Hub to address topics such as:
Funding and grants
Business strategies
Community building
Social, support, and training programs
Equity and development
COVID-19
The top three most valuable things that respondents said we could include in the Learning Hub would be:
Professional mentorship and skills building (60 percent)
Insights from previous winners of The Innovation Fund (57 percent)
Learning about social entrepreneurship in general (48 percent)
And, according to the survey respondents, the way in which we can best serve up those valuable resources would be as:
Live streaming panel or speaker events (59 percent)
Collaborative workshops (58 percent)
Fact sheets (53 percent)
Webinars (52 percent)
Infographics (44 percent)
Video tutorials (43 percent)
White papers (31 percent)
The survey was designed to help us get our beta Learning Hub up and running for a soft launch by year's end. In this year, 2021, we'll be reaching out to respondents for more information. In one-on-one interviews, we'll find out the specific types of material we can provide that will inform future programming and investments.
Beta Version of Learning Hub Opens with First Learning Briefing
At The Workers Lab, we care about meeting worker's needs. So, what better way to celebrate the beta version Learning Hub's first day, and to show our appreciation for the great response to our survey, than to hold our first Learning Hub event?
On December 16, 2020 we invited California co-op innovators and funders to attend our first virtual Learning Briefing. The topic: co-ops.
Using co-ops as an organizational structure to build worker power is a strategy that innovators surfaced in our Fall 2020 cycle of The Innovation Fund as well as in the November 2020 Learning Hub survey. At The Workers Lab, we happen to know some incredible co-op innovators!
"Co-ops: What They Are and What We're Learning" was a panel discussion featuring three co-op innovators from California, New York, and Ohio. Our inspiring speakers included:
Flor Rodriguez from CLEAN Carwash Worker Center (Los Angeles)
Erik Forman from The Drivers Cooperative (New York City)
Lela Klein from Co-op Dayton (Dayton)
We asked these leaders for their advice to help us understand what cooperatives are, the innovative projects they have been working on, how co-ops are building learnings and worker power, as well as to share takeaways and advice they've gleaned from their experience with this form of worker ownership.
Watch the recording of our first Learning Briefing
Funders and Innovators Sharing and Learning Together
Sharing knowledge is central to building worker power.
For social entrepreneurs, funders, and public sector leaders, the Learning Hub will be a place for you to:
Engage new ideas, experiments, and learnings
Access funding or grantees
Connect with partners
Launch your projects
Throughout this year, 2021, we'll be adding content to the Learning Hub. We'll take to heart the answers respondents gave us in our survey and also in the interviews we'll be conducting early this year. We anticipate future content will include:
Webinars, virtual workshops, and panels
Fact sheets
Reports
Case studies
Our intention is for every event to be as interactive as possible - encouraging sharing, promoting learning, and building community.
As our Learning Hub evolves, we will increase access to and awareness of ideas and replicable programs that increase power for working people.
Don't Miss Valuable Resources
Find out every time we post a new resource or event by subscribing now to receive Learning Hub notices.