We called for ideas to improve workers' lives and Innovators answered in a big way. We received a record number of ideas to support workers and we're excited to share our nine Finalists.
We all lean on supports in our lives. For many of today's workers, the existing supports are not enough. For The Innovation Fund Spring 2020 cycle, we wanted to know:
What's out there making it easier for workers to stay safe and healthy?
What new tools exist to give workers more help, security, and control in and out of the workplace?
How is innovation making it possible for workers to boost their skills and pay their bills at the same time?
How do we connect work to service and civic participation?
It has never been more clear that workers deserve more support to achieve their aspirations. Our nine finalists are addressing critical needs for a diverse range of workers:
African Communities Together - Worker-owned business for unemployed or underemployed workers who speak languages of limited diffusion
Co-op Cincy - Shared and cooperatively owned child care services model
The Forestry and Fire Recruitment Program - Career pathway into fire services for formerly incarcerated persons who served as wildfire camp workers
FreeFrom - Workplace support for survivors of domestic violence
Homebridge - On-the-job training and credentialing for home-based caregivers
IndyHub - Portable benefits for contingent workers
Leap Fund - A calculator and financial product for low-income workers facing the benefits cliff
National Domestic Workers Alliance - Free, confidential support line for caregivers
Open Door Legal - Civil litigation support for workers with wage claims against employers
Congratulations - and good luck - to the Spring 2020 Finalists. Later this month, three will be selected to receive $150,000 to continue building and testing their ideas.
The Innovation Fund Spring 2020 Finalists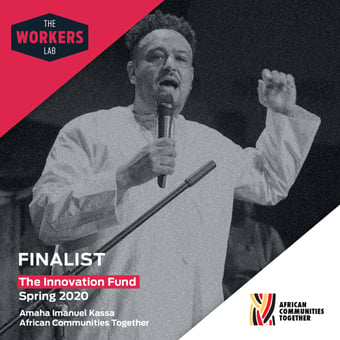 African Communities Together (New York)
African Communities Together (ACT) fights for civil rights, opportunity, and a better life for our African immigrant families in the U.S. and worldwide. In partnership with three other immigrant-community based organizations - Masa South Bronx, the Asian American Federation, and the NY Immigration Coalition - ACT aims to:
Transform the language services labor and consumer market in NY
Create a replicable, sustainable model for other diverse metro regions and states
Together, they will develop and launch three cooperatives - one each for African, Asian, and indigenous Latin American languages. These worker-owned businesses will help meet the demand for skilled, professional, culturally-competent interpretation services. At the same time, they will provide skilled employment and business ownership opportunities to underemployed, multilingual immigrant community members.

Co-op Cincy (National)
Co-op Cincy, Cooperation Jackson, Wellspring Cooperative, and Cooperación Santa Ana all create good jobs to fill community needs. Collectively, they:
Incubate worker cooperatives
Network co-ops to share resources
Building business resilience
Co-op Cincy is ready to expand their successful CareShare pilot in partnership with their co-op partners. CareShare is a worker- and parent-owned cooperative childcare business. It brings together parents and childcare providers to care for up to five children in a family home. By facilitating the matching process, payroll and taxes for "nanny shares," CareShare expands access to quality child care with personalized early education. They also ensure teachers receive at least $15/hour with benefits. Co-op Cincy wants to grow shares in Cincinnati, OH and launch new ones in Jackson, MS; Santa Ana, CA; and Springfield, MA.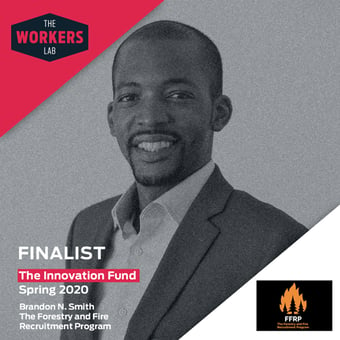 The Forestry and Fire Recruitment Program (California)
The Forestry and Fire Recruitment Program is a non-profit organization that directly combats the increasing threat of wildfires by recruiting wildfire personnel from nontraditional and underrepresented communities.
FFRP coaches and supports participants through the process of transitioning from fire camps - CA prisons housing incarcerated people utilized as firefighters - to full-time, paid members of California's firefighting force. FFRP is ready to develop and pilot a fee-for-service approach and share those lessons with other reentry organizations.

FreeFrom (California)
FreeFrom leverages technology and innovation to create pathways to financial security and long-term safety for survivors of gender-based violence. They envision a world where:
Survivors have sustaining income, savings, and credit with which to build wealth
Resources exist to support individual, intergenerational, and community healing
Harm-doers are financially accountable
Survivors are not saddled with the cost of being harmed
Gender-based violence receives the attention necessary to address it as a systemic issue
FreeFrom's Survivor Paid Leave Lab will give every worker in the U.S. access to survivor leave. With survivor input, FreeFrom is developing a suite of workplace supports, including a survivor leave policy that they are ready to pilot with employer partners.

Homebridge (California)
The Certified Nursing Assistant (CNA) certification is an important first step on the healthcare career ladder. But the certification is fee-based. And workers often have to trade off paid work time for unpaid classroom and field-based learning.
Homebridge provides on-the-job paid training to its 300+ member homecare workforce who deliver services under San Francisco's In-Home Supportive Services (IHSS) program. Over the past three years, Homebridge has transformed its workforce program from a single tier to a three-tier career ladder with wage advancement at each tier. Today, Homebridge is ready to implement the next step in this career ladder with an innovative on-the-job training and outplacement program for their workers to move into higher paying healthcare roles.

IndyHub (National)
IndyHub's mission is to create economic security for all working Americans. To achieve it, they create tailored company-sponsored benefit plans for contingent workers.
No other organization has created a similar program. IndyHub accepts contributions from both gig platforms and municipal governments. IndyHub gives workers professional advice and the control over those contributions. Workers choose their own benefits from an array of insurance and savings products. IndyHub is ready to execute two pilots with public and private partners.

Leap Fund (New York)
Many low-income workers are deciding:
Not to take pay raises

Not to increase their hours at work

Not to advance in their careers
Why? Because of the benefits cliff. Earning a dollar or two more an hour results in losing public benefits worth much more than the income increase.
Leap Fund is changing that. They have built a calculator - the first of its kind - that can predict individualized cliffs. They're also piloting a financial vehicle that allows users to defer their income until they earn enough to replace what they'll lose in benefits.

National Domestic Workers Alliance (National)
Founded in 2007, the National Domestic Workers Alliance (NDWA) is the nation's leading voice for dignity and fairness for the millions of domestic workers and home care workers in the United States. NDWA works for the respect, recognition, and inclusion in labor protections of domestic workers, the majority of whom are immigrants and women of color.
CareTogether is a free, confidential support line for caregivers. It provides advice, resources, and emotional support from trained Caregiver Coaches via text or chat. CareTogether provides a lightweight peer support solution for caregivers experiencing stress. The platform is poised for expansion. NDWA seeks to pilot and test different models for generating revenue.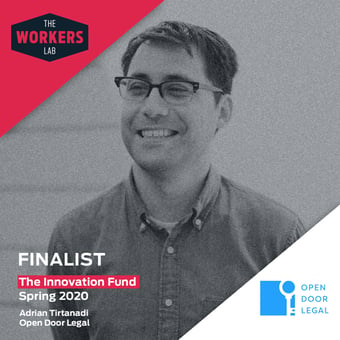 Open Door Legal (California)
Open Door Legal is pioneering the nation's first model of universal access to civil legal aid in order to dramatically reduce poverty. They provide services in 35+ areas of civil law and can solve complex legal issues that span multiple practice areas as well as deter illegal conduct. From an employment law perspective, the current system for low-income workers to recover lost wages by filing claims through the Division of Labor Standards and Enforcement (DLSE) is broken.
Open Door Legal's employment law team has pioneered an innovative alternate use of small claims court instead of the DLSE: we can coach workers to represent themselves and get enforceable judgments against bad employers in as little as two months. Open Door Legal is ready to expand this practice to reach more workers across the State of California.
Subscribe for Updates
Our judges will select winners by the end of June. Subscribe below to receive the announcement. Subscribers will also be notified when we begin accepting applications to The Innovation Fund Summer 2020 open call.