The Workers Lab is thrilled to release our final report on efforts to improve gig workers' access to safety net benefits. The report details findings from our pilots of the "Income Passport" tech solution in Alabama and Louisiana, which were undertaken in partnership with Steady (a mission-driven consumer technology company).
During the COVID-19 pandemic, as millions of people lost their livelihoods, the federal government made gig workers countrywide eligible for unemployment benefits for the first time. However, these workers struggled to provide the necessary income information, and states weren't equipped to process it effectively. The results were delayed or denied benefits, strained state staff and processes, and increased instances of fraud.
We at The Workers Lab and our partners at Steady set out to help both workers and state staff. Building on a technology solution that we developed in collaboration with workers, we deployed and tested the solution directly with state departments of labor in Alabama and Louisiana, embedding it into each state's existing workflow to help process unemployment applications in real-time. The state tests showed how the Income Passport benefited both state staff and gig workers by allowing them to submit and process claims more easily, more quickly, and with fewer instances of fraud than before. Our work demonstrates that this Income Passport can benefit many more workers and government systems if it is applied to the numerous parts of the social safety net that require some form of income verification.
This report follows Part One of our research, "How Gig Workers Shaped a Income Passport to Improve Access to Safety Net Benefits," during which The Workers Lab and Steady partnered with worker leaders including workers from the Philadelphia Drivers Union and Gig Workers Rising, and experts Julia Simon-Mishel, Andrew Stettner, and Donald Lowman, Jr. to design an Income Passport that helps gig workers verify and document their incomes.

In this second phase of the work, The Workers Lab partnered with the departments of labor in Alabama and Louisiana to test the ability of the Income Passpport to process assistance claims in real times. Our goals were to discover if the solution empowered states to perform their work more easily, efficiently, and effectively; if it helped gig workers submit and receive benefits claims more easily, accurately, and quickly; and if partnerships between states, technology companies and worker advocates would lead to better outcomes for all.
What is most promising in this new report is that after testing our technology with these states, we now have proof that a worker-developed and tested tech solution can also offer a win for state unemployment departments that are struggling to administer benefits to the workers who need them most. Chief among our findings with the states is that our solution streamlined their process and helped get gig workers their benefits more quickly and with less hassle. Among the most encouraging learnings in this report are:
1/ Processing claims by Department of Labor staff in Alabama went from a completely manual process that took up to 60 minutes without the Income Passport, to a process that took less than five minutes with the Income Passport. Additionally, 35% of claims were able to be processed automatically with our tech solution.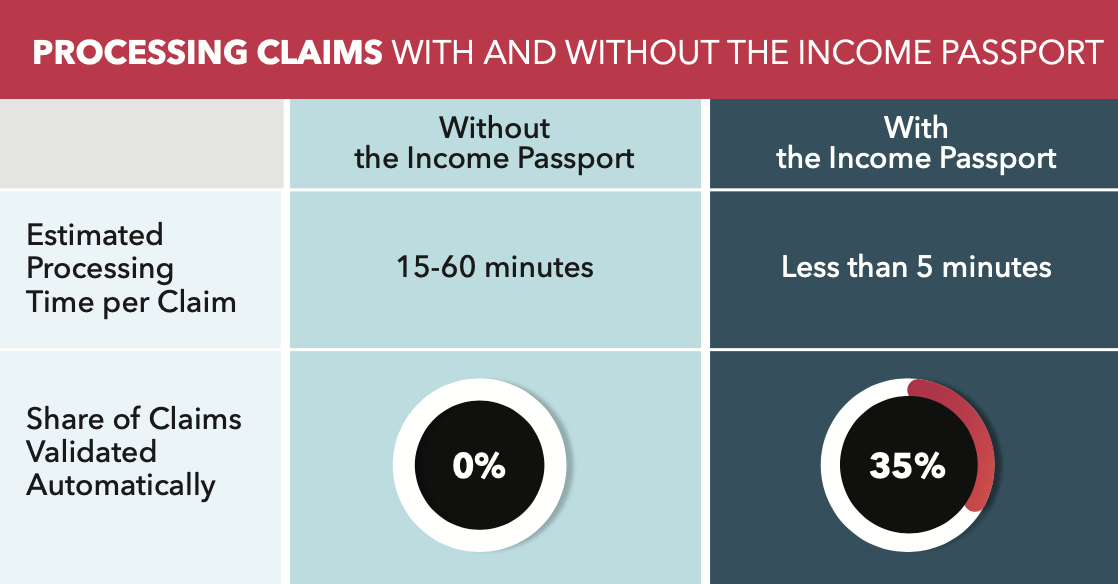 2/ Once claims were processed by the Louisiana Workforce Commission using the Income Passport, workers were paid in less than 24 hours. Before using the Income Passport, payment would take approximately 3 weeks.
Please read our report to learn more about our findings and how it will inform our next steps. You can also learn more about the Income Passport here.