At the outset of the pandemic, we saw how states were struggling to process unemployment benefits for gig workers, who were eligible for these critical benefits for the first time ever. Gig workers are everything from Uber drivers and farm workers to freelance workers and domestic workers, and they are more likely to be people of color. Our country's unemployment system wasn't designed with them in mind and didn't anticipate having to confirm income that comes from multiple sources for multiple jobs within the same day.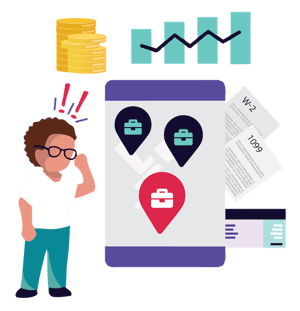 We asked, "What if gig workers didn't have to patch together tax forms, screenshots, and spreadsheets or jump through hurdles to fill out state unemployment insurance applications?"
We teamed up with our trusted partner Steady to help them develop and test a tech solution that solves the challenge of verifying income from gig work and paves the way for government leaders to more easily deliver timely and accurate unemployment benefits to gig workers.
One of the great things about our solution is that it has been built with the help of gig workers, including the invaluable support of Philadelphia Legal Assistance and workers from the Philadelphia Drivers Union. Our partners there used, tested, and informed the development of the technology so that it addressed their problems, rather than creating new ones.
What is the end result?
Here's how our tech solution helps gig workers and government leaders

Gig workers go to a state website setup by Steady and consent to safely and securely link to their gig platform and financial accounts for the sole purpose of receiving benefits.
Steady's cutting edge tech (already tested and used by 3 million workers and major financial institutions) analyzes and organizes all sources of income from gig work.
Steady then generates a streamlined income report for gig workers to submit to the state - electronically and with their consent - in a way that's easier for government leaders to understand.
The state analyzes and verifies income from gig work with substantially greater ease, accuracy, efficiency, and integrity.
Gig workers get their unemployment benefits faster and more accurately.
What's next?
Our next hope and expectation is to partner with a state to do the same; to demonstrate that government can innovate not only to make gig workers' lives easier today, but also to make our unemployment insurance system more equitable, accessible, and inclusive of workers that have historically been excluded. That's what good government does. It takes care of people. And we want to help.