During the COVID-19 pandemic, as millions of people lost their livelihoods, the federal government made gig workers countrywide eligible for unemployment benefits for the first time. However, these workers struggled to provide the necessary income information, and states weren't equipped to process it effectively. The results were delayed or denied benefits, strained state staff and processes, and increased instances of fraud.
Alongside Steady (a mission-driven consumer technology company), we set out to help both workers and state staff by building a a tech solution called the "Income Passport".
This effort was implemented in two parts.

Part One: Develop, Test, and Refine the Tech Solution with Workers
We asked, "What if gig workers didn't have to patch together tax forms, screenshots, and spreadsheets or jump through hurdles to fill out state unemployment insurance applications?"
Partnering with worker leaders including workers from the Philadelphia Drivers Union and Gig Workers Rising, and experts Julia Simon-Mishel, Andrew Stettner, and Donald Lowman, Jr. we designed the Income Passport platform, which is fully informed by workers themselves.

Part Two: Deploy and Pilot the Tech Solution Directly with State Departments of Labor
We asked, "What if we could simplify and automate the process for collecting and verifying accurate income data for states?"
Partnering with state departments of labor in Alabama and Louisiana, we embedded the Income Passport into each state's existing workflow to help process unemployment applications in real-time. The state tests showed how the Income Passport benefited both state staff and gig workers by allowing them to submit and process claims more easily, more quickly, and with fewer instances of fraud than before. Our work demonstrates that this Income Passport can benefit many more workers and government systems if it is applied to the numerous parts of the social safety net that require some form of income verification.
Chief among our findings from the state pilots is that our solution streamlined the process for administering benefits and helped get gig workers their benefits more quickly and with less hassle. In Alabama, processing claims by Department of Labor staff went from a completely manual process that took up to 60 minutes without the Income Passport, to a process that took less than five minutes and 35% of claims were processed automatically with the tech solution.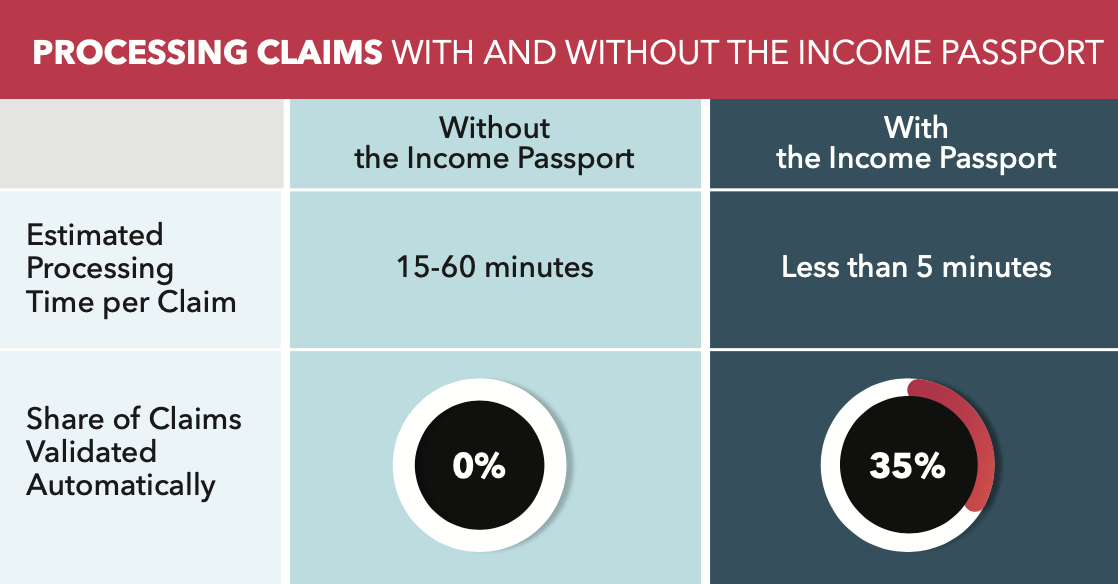 In Louisiana, once claims were processed by the Workforce Commission using the Income Passport, workers were paid in less than 24 hours. Prior to using the Income Passport, payment would take approximately three weeks.
Read the final reports for both parts of this effort:
Part One: Develop, Test, and Refine the Tech Solution with Workers
Part Two: Deploy and Pilot the Tech Solution Directly with State Departments of Labor