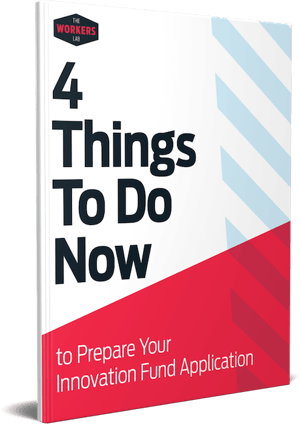 Tell us about your idea to make a social impact for workers.
At The Workers Lab, we fund ideas that create a positive social impact for workers. We call for applications two to three times each year. You should apply to The Innovation Fund if you have an idea to improve workers' lives.
Although we don't call ourselves an accelerator or an incubator, our award recipients do receive expert support to develop and test their venture, along with up to $150,000 to get their idea up and running. Once we fund your idea, we're committed to working with you over 12-months to learn from you and share your work with our networks.
We're looking to invest our dollars in promising ideas and leaders who are ready to learn. Our dollars come from a range of donors -- institutional philanthropy, venture philanthropy, social impact investing firms, and individual donors. They invest in The Workers Lab because we are able to find leaders like you that too often do great work, but might not be on their radar. We consider a range of ideas and while the strategies are different, they share a deep commitment to making innovation work for workers. Each time we call for applications, we shape our social impact focus based on the evolving economic and social environment.
The types of social enterprises we fund
We look everywhere for ideas that put power in the hands of workers , especially those from marginalized communities. We've funded worker-led organizations, entrepreneurs, worker-leaders, and public and private sector ventures. We're always looking for new and innovative ways to create better safety nets, build power for gig and contract workers, and support workers in low-wage jobs.
Anyone in the U.S. or based internationally can apply, although we have a preference for innovations focused on U.S.-based workers. Workers face many challenges, but we know they are resilient and leaders like you want to build on that resilience. We start by understanding the problem you are trying to solve, getting to know the workers you are most focused on, and then assessing the potential of your idea to solve that problem.

We invite submissions focused on all workers. And, we place a high value on ideas focused on workers of color, women, and LGBTQ+ people who have been particularly affected by economic shifts and changes in the labor market. Recognizing that these workers are often excluded from legal protections, innovation for these workers is urgent. The Innovation Fund is a vehicle especially geared towards investing in ideas for these communities and beyond. As an innovation lab, we have seen and learned firsthand that the best solutions come from the people who are also impacted by social challenges they seek to address.
Download our application checklist today to find out if your idea is a good fit for The Innovation Fund.
Fill out the form to receive:
Information on the type of projects and social enterprises we fund
Tips for crafting a winning application
Email notifications for our webinars
An email when new application cycles open and close